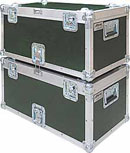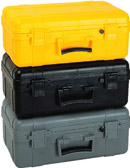 CASE PACK
- a leading manufacturer of transport cases with Flight Case technology.
Competent partner for demanding customers expecting highest quality, technical innovation and solutions for today and tomorrow.
Flight Case technology is based on aluminum profile systems, fittings, handles, etc., is characterized by high strength and little deadweight.
Cases made using this technology perfectly protect equipment transported in them, and thanks to their low weight, they are used in air transport, among other things.
All the components used for production are of the highest quality and come from the world's best companies.
We design and manufacture standard cases, as well as individual orders.
We manufacture on the basis of resources from our technical researches, as well as on the basis of sketches and drawings, as well as designs supplied by clients.
We execute covers for recording, broadcasting and technical vans. We also manufacture a wide range of studio furniture. We specialize in piece and series production.
Our production offer includes the production of cases for the following purpose, among other things:
• projectors
• slide projectors
• visual monitors
• cameras
• film and television equipment
• measuring-control devices
• computers
• panel devices 19"
• medical equipment
• music instruments
• mobile electronic systems
• lighting systems
• photographic equipment
• speaker systems
• presentations and products
• weapon
• exhibition products, etc.,
as well as boxes for any equipment which requires a specific transport security.