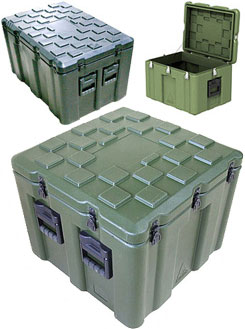 Description:
Amazon Cases are produced using a process called rotomoulding. It's ideal for making tough, waterproof products, using a high quality polyethylene polymer that thickens at the edges and corners for extra strength and impact resistance.
Amazon cases have been designed to offer exceptional strength to weight and are suitable for military, offshore or other applications where delicate or valuable equipment needs to be transported or stored safely.
Amazon cases are available in standard UV-stable colours black and NATO green. Other colours can be selected as options.
Amazon Cases are available in a wide range of stock sizes.
Recent additions include cases for computer monitors. These are specifically designed to house any TFT/LCD widescreen monitor up to 22 inch. Also available are two cases that maximise the available load space on C130 Hercules 463L pallets.
The majority of Amazon products carry NATO stock numbers and are accredited to MIL-STD 810F.

2. Amazon case with customisable drawer system used for in-field medical supplies.

3. Amazon cases are cross-stackable to ensure stability during storage and transit.

4. Amazon cases used for ruggedised laptops.

5. Amazon C130 Hercules pallet cases (2 Sizes).

6. Monitor case designed for TFT/LCD widescreen monitors.