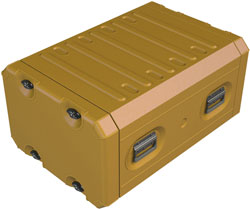 Opis:
This 19-inch ruggedised electronic transit rack has been designed for commercial and military applications, when protection against physical, climatic and electromagnetic hazards are required. Constructed from high-tensile aluminium alloy, ERACK is ideal where weight, strength and portability are critical issues.
Design features include:
• Very lightweight – the 6U 19-inch (480 mm) deep version weighs less than 14.7 kg (33 lb) including lids
• 19-inch chassis compliant to ANSI/EIA-310-C and BS5954
• Rugged, 1.5 mm (60 thou) high tensile aluminium alloy construction
• Recessed, sprung handles and quick release lid latches offer secure closure and allow front access when stacked
• Weatherproofing to EN 60529 / IP66
• Stackable with inter-locating ribs on container top and bottom surfaces
• Precision manufactured interchangeable lids
• Available in 3U to 12U sizes
• Standard chassis depths 480 mm/610 mm/740 mm/870 mm
• Half rack designs also available
• NSN Certification

2. Floating inner rack chassis. Ensures that the electronic equipment is protected against vibration and impact, regardless of orientation.

3. Floating rack chassis. 50 mm sway space.

4. Stacking ribs incorporated on top and bottom surfaces of rack body. ERACK units fully stackable with front and rear access when stacked.

5. Unique press tooled high shear fastening without piercing the body.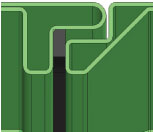 6. The lid engagement profile is formed from the parent material by an innovative sequence of patented folds and TIG welding.

7. Latch compresses silicone seal to give an Ingress Protection rating of IP66.